Osteoarthritis Ayurvedic Treatment
Osteoarthritis, or degenerative joint disease, is one of the oldest and most common types of arthritis. It is characterized by a breakdown of the joint's cartilage. Cartilage is the part of the joint that cushions the ends of bones. Cartilage breakdown causes bones to rub against each other, causing pain and loss of movement. Osteoarthritis can range from very mild to very severe, and most commonly affects middle-aged and older people. It affects hands and weight-bearing joints such as knees, hips, feet and the back.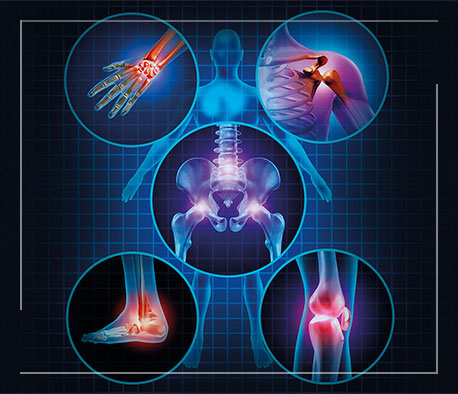 According to Ayurveda, Osteoarthritis occurs due to aggravation of Vata Dosha and is known as Sandhivata (Sandhi means the joint and Vata stands for Vata Dosha). Vata is an Ayurvedic humor that symbolizes air or wind and governs all movements in the body as well as mind. The condition of Sandhivata is caused when the activities of Vata increase inside the Sandhis or joints. Because Vata is dry in nature, it absorbs the fluidity from any part of the body. It is also destructive or catabolic in nature, which is why it causes destruction of the cartilages and reduction in the Synovial Fluid inside the joint capsule.
Ayurvedic treatment of Osteoarthritis not only prevents further deterioration in the joints but also rejuvenates damaged cartilages. Vata-alleviating treatments through specific herbs are also suggested for lubrication and strengthening of joints.
Osteoarthritis (OA) is the most common form of arthritis, especially among older people. It is a joint disease caused by the breakdown of cartilage – the firm, rubbery tissue that cushions bones at joints. Healthy cartilage allows bones to glide over one another and absorbs energy from the shock of physical movement. In OA cartilage breaks down and wears away. As a result, the bones rub together, causing pain, swelling, and stiffness. OA may also limit the range of motion in affected joints. Symptoms tend to appear when individuals are in their 50s and 60s.
Osteoarthritis mostly affects cartilage, the hard but slippery tissue that covers the ends of bones where they meet to form a joint. Healthy cartilage allows bones to glide over one another. It also absorbs energy from the shock of physical movement. In osteoarthritis, the surface layer of cartilage breaks and wears away. This allows bones under the cartilage to rub together, causing pain, swelling, and loss of motion of the joint. Over time, the joint may lose its normal shape. Also, small deposits of bone — called osteophytes or bone spurs — may grow on the edges of the joint. Bits of bone or cartilage can break off and float inside the joint space. This causes more pain and damage.
Osteoarthritis symptoms often develop slowly and worsen over time. Signs and symptoms of osteoarthritis include:
Pain

Tenderness

Stiffness

Loss of flexibility

Grating sensation

Bone spurst
Expert Health Advice for Life
Modern life style can be complicated. Simplify it by adopting Ayurveda, the most ancient way of living a healthy life. Meet experts at Aagyarth for your healthy and happy tomorrow.