Kati Basti Ayurvedic Therapy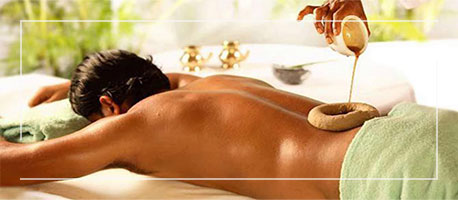 Kati basti is a medicinal oil treatment for relieving tensions of the lower back. The patient lays down on their stomach, a ring is fixed on their back with a paste made of a special flour and water. The therapist poors very warm oil inside the circle, this sesame-based oil relieve all tensions and will penetrate deep into Ashti dhathu (the bone tiissues). The therapist must keep the oil very warm for 30 mn after which the patient receives a short massage with the same oil. A complete massage followed by a steam bath is highly recommended.
Get the best Kati Basti ayurvedic therapy in Ahmedabad at Aagyarth Ayurved Cure Centre.
Expert Health Advice for Life
Modern life style can be complicated. Simplify it by adopting Ayurveda, the most ancient way of living a healthy life. Meet experts at Aagyarth for your healthy and happy tomorrow.